Hits: 279
Olamide and Aisha Craig are a UK based Nigerian couple who have created an online dating platform for Nigerians at home and abroad called SuruLereLove. Olamide is a medical doctor and pastor and is a BellaNaija contributor. Aisha is a banker and a health and wellness enthusiast and together they are passionate about building love and relationships. The couple discussed the launch of SuruLereLove; here are excerpts:
What SuruLereLove is about
Sùúrù l èrè is a Yoruba phrase. Sùúrù means patience, èrè means reward and Surulere means "Patience is not without its rewards" or "Patience will yield its fruit". It is from this ancient traditional wisdom that we have distilled the words of our brand. At SuruLerelove we truly believe that "you can't rush something you want to last forever!" and we know that all good relationships take time and patience to develop. That is why we chose to use patience to encapsulate the ethos of our corporate identity
The Uniqueness of SuruLereLove
Unlike other dating sites where sexual attraction and instant gratification are the most important criteria for choosing a mate, members of SuruLereLove fill out a detailed personality profile and a comprehensive list of preferred characteristics which is used to match them with the most suitable and eligible singles. We want our members to develop life long relationships and not just one nightstands.
On Whether SuruLereLove is a Christian dating site
No. We believe that the promise of true love is open to everyone, regardless of their religion, ethnicity or creed. But we are believers and our faith influences everything that we do, so even though the platform is not restricted to any one religion, the principles of good practice one can expect from true Christians will continue to govern our platform.
What it takes to Join
It's free. No cost whatsoever. Everyone who signs up is automatically assigned our complimentary welcome plan. We have set the duration at 6 months in the first instance, and users can request for this to be refreshed at the end of this period should they require. We have a few paid subscription packages, but will not be rolling these out until much later, at the end of the year 2018.
On the Feeling of Embarrassment & Desperation that Sometimes Come with Signing up on Dating Sites
We understand exactly how someone can feel this way. The truth is I (Olamide) felt the exact same way too. I used to see online dating as desperation and I told myself if I was "good enough" why would I ever need any help with finding love. During my masters in Birmingham, after a long term relationship that I felt was leading to marriage had just ended, I signed up to an online dating site and it was there I realised the power of a larger social circle.
I met several wonderful people and formed awesome friendships and even though I did not meet my wife online, some of the things I learnt through that experience helped me develop the skills that keep our marriage beautiful today. Before signing up for online dating, I had no idea of the way believers from other countries expressed their faith, and for the life of me, I had never considered that I could ever be a good fit for anyone who wasn't Nigerian.
But these were women who loved Jesus just like I did, and even though we could not have been more different on the outside, as we got to know each other, I realised how much more alike we were.
I (Aisha) believe that the world has become a global village, and for the first time in the history of humanity, the potential dating pool for a young man living in Lagos, can realistically include a woman who lives in Nairobi or Helsinki or Mumbai. The limitations once imposed on us by distance, borders, culture and time, have been almost completely erased by the internet. Only a few decades ago, youcould live in Ibadan and there could be someone living in Eket, and even though you both were perfectly matched, you would never meet and never fall in love, simply because you did not have a common social circle or were never in the same place at the same time. Those days are gone. Your social circle could conceptually be the entire globe, and now there is a very good chance that you both could be on the internet at the exact same time.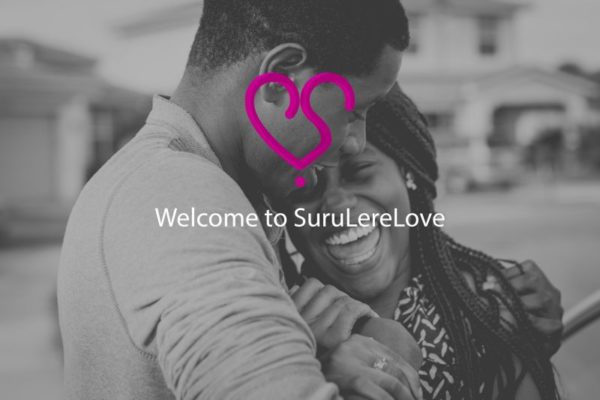 On Whether Nigeria is ready for Online Dating
Nigeria already has online dating. People have been finding love online via Twitter, Facebook and Instagram for years, (and MySpace and Hi5 before that). What SuruLereLove hopes to do is to eliminate the guess work. On social media, there are millions of users who are on these platforms for various reasons, they are online looking for business, news, entertainment etc. On our platform all the users have signed up because they are looking for exactly the same thing, Life long love! This way you know that your advances would be met with at least curiosity and not repulsion.
On Whether they carried out any research on the perceptions of both sexes to online dating in the Nigerian context and how people feel about it.
We did a few surveys trying to sample the opinion of Nigerians on finding love online. Surprisingly, over 80% *of those we polled were happy to meet their partner online, but only about 40% would be willing to disclose this fact.
We feel that this discrepancy is because as a community, we still hold the notion that if one was beautiful enough or worthy enough, a suitable mate would appear from thin air and together they would stroll away into the sunset.
In reality however, the truth is we can only marry people we have gotten a chance to meet, and meeting people these days is becoming harder. All SuruLereLove seeks to do is expand the social circles of our users and help introduce people who would ordinarily never get a chance to meet.
How SuruLereLove hopes to expand a user's social circles
Surulerelove was created to introduce people and start relationships. Our primary market is the Nigerian community at home and in the diaspora and our goal is to foster "life long love". We have chosen three broad strategies with which to execute this.
First is to introduce Nigerians in Nigeria to other Nigerians living in Nigeria. This will appeal to busy professionals who may find it hard to make time to date the traditional way, or members whose social circles are too small for desired mate selection, or who have very specific/niche dating pools (i.e Fitness, Star Wars fans, Single parents).
This member has exhausted potential mates from within their existing reach and is looking to expand this further afield. Next we hope to introduce Nigerians in the diaspora who are looking to marry from the home land to other eligible singles who live in Nigeria and abroad. A lot of Nigerians (and Africans) travel to far flung corners of the globe for education, economic migration or family relocation. Despite being full integrated into their new community a large percentage of these still desire to date and marry from home. Our platform will help facilitate this.
And finally we hope to specifically introduce Nigerians both at home and abroad to non-Nigerians across the globe, whether it is the Business man in Kenya, the fashion model in Hong-Kong or the Finance executive in Canada. The world has heard of our show stopping Jollof Rice, the sensuality of the Yoruba woman, the spending power of the Ibo man, the culinary skills of the Efik woman or the political connections of the Hausa gentry, and they all want a part of what is undoubtedly the most attractive people in the world.
Launch Date & How to Signup
We are only a few days away and can't wait to share this platform with the world. It has been an exciting process over the last year working with our team of developers, designers and partners. We believe we have a good product, but like all new ventures, we are aware that it is a work in progress
and will have lots of room to improve.
To sign up, users will create an account and fill out a user profile. Our sign up process is a bit more detailed than most conventional dating sites, but we feel that this was necessary to extract a fair amount of information and help our users eliminate the guess work that can often make online dating tedious and cumbersome.
The official launch date is Thursday 30th of November 2017 and the sign up link will be posted here on BellaNaija as well as across all their social media platforms @SuruLereLove.